MILOS

MILOS

APHRODITE OF MILOS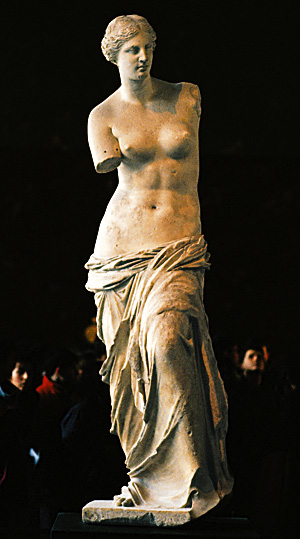 The Aphrodite of Milos, or Venus de Milo, as she is more widely known, was found in Milos in 1820 by a local farmer, George Kentrotas. A French naval officer, stationed in Milos at the time heard of the find and immediately realizing its artistic value, advised the French vice-council for Milos. Kentrotas was eventually persuaded to sell the statue to the French Council, Marquis de Riviers, who made a gift of it to the King of France, Louis XVIII. It was later placed in the Louvre of Paris where it remains to this day, the object of ecstatic wonder to millions of People.

The Statue of aphrodite of Milos is dated at about 120 B.C., in the late Hellenistic period. It is 202cm high. The slipping drapery on the hips hides the joint between the two blocks of marble that were sculpted separately.

A plaster replica (the original is made from marble of Paros) of the statue can be seen in the Archaeological Museum of Milos along with a number of other marble statues, including a replica of Poseidon (the real statue is in Athens). The statues are part of the ancient roman city of Klima.
Please share your opinion of it with other travelers. Write a review!