MILOS

MILOS DIVING CENTER

LOCATIONS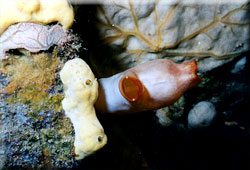 After countless meetings with Greek Organizations' heralds and thanks to Yannis Havakis' personal efforts, today our Diving Center offers dives at 11 selected locations around Milos. In order to always keep you informed, the photos and the information concerning these locations are statedly updated.
Kalogiros - The Monk is a scar, once conjunct with Milos. The depth is 30 meters, while its countless holes and a cave are providing ideal shelter for fishes and underwater life. A dive can be performed at various depths, but a go - around of the scar and a visit to the cave located at its west side is a must. A dive at Kalogiros is an all levels fun.
Pelekouda - We perform this dive in front of Milos Diving Center, or very close to it. It is a shallow waters dive not deeper than 10 meters, in clear waters and with much to see. A location ideal for night diving and for rookies.
Agios Efstathios - A tiny, barren island very close to our Diving Center. At a depth of about 15 meters we enter an underwater cave and we cross it for 50 meters, in order to admire the biggest anemone of Mediterranean. Shrimps and lobsters live over there, their eyes glaring at our Maglights. You cannot miss the cave: its entrance is guarded by an old blackfish and many rare, huge cockles. Nearby this location, we also use to dive at Amphitheatron or Pitta: the colours are extraordinary and in case you pay some attention, you may see amphoras and other ancient objects. A night - dive is a must, for everybody of any level.
Thermopetra - A Hot Rock, really. White, from a distance looks like a ship. The more to the deep, the most are changing the shape and the colours of the skerry. On the surface live terns and seagulls, but underwater the place is full of blackfish and morays. After passing through narrow gorges, the diver is rewarded with a fantastic view and will remember the dive at Thermopetra for a long time. Thermopetra requires advanced diving skills, though.
Revmatonissia - Interesting skerries southerneast of Kimolos. This colourfull location is a shelter for big fishes and cockles.
Klima - Nice and wild shoal southerneast of Kimolos, with narrow gorges and full of underwater life. A good dive for eneryone.
Chtenia - These lonely rocks are located southeastern of Kimolos, at extremely deep and crystal clear waters. The life is amazing, but the place shows up itself only to ultra skilled divers.
Polyaigos - We dive at the locations Blue Waters and Lantern, of the island Polyaigos. A mere 10 minutes away from Milos Diving Center, you have the chance to see dolphins, monachus - monachus and big fishes. The underwater landscape is unforgettable and extremely rare in Mediterranean Sea.
Agios Georgios - Off Milos, this small private island offers a very good diving experience in crystal clear waters. The diver passes through an underwater pass to a laguna; afraid not of Annie wants like a pet to get food from your hand, not to get a snack out of your index.
Bonanza - An easy dive for everybody, south of Kimolos. Relax underwater and enjoy this unique feeling, known only to divers.
Please share your opinion of it with other travelers. Write a review!