MILOS

MILOS DIVING CENTER

STAFF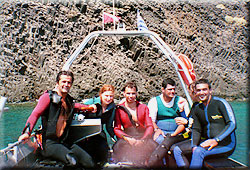 Like all the Diving Centers, MDC has some guys that their job is your service. Our staff are pros though friendly, thus they let our divers feel nice, safe and secure. Many divers are coming back not only for diving, but because they are close friends who like to have their vacation with us. MDC could not exist without Yannis Havakis, CMAS M**, PADI and IAHD Instructor. The MDC Director is native Milean, trained in Switzerland and speaks French, Greek and English.

On 1955, he started his efforts to get some locations at Milos and elsewhere at Cyclades, free for diving. As a result, today he can perform diving at 11 selected extremely nice locations at Milos.

Yannis is very experienced and efficient diver. He has spent too much time of his life underwater, he is very sensitive, straight and friendly and you will just love him as we all love him.

Yannis is married to Maria. Maria Havakis is a diver and she looks after whatever has to be done: she organizes everything and she actually runs the Office and the apartments, too. She is friendly, with a brain full of Management and tourist information. She speaks French and Greek

The guy that always thinks, calculates and smokes is Steve Genosis, the MDC Accountant. He does all that financial kittle - kattle that the Greek Government requires in order to let a business run. Steve is a PADI Instructor and will guide you underwater and will be by your side, ever ready to reply in English and Greek.

If you notice a guy nearby MDC carrying tools and trying to fix whatever is mechanical, no matter if it is car, bike, bicycle or speedboat, you will also notice that he is in a wheelchair. He is Manthos Marras, Instructor. Manthos guides you underwater, he undertakes to photo with his camera whatever you spot underwater and pass the film to you, he backs up Yannis Havakis in Theory and Practice and he is ready to give you all the diving info you are looking for.