MILOS

MILOS DIVING CENTER

EQUIPMENT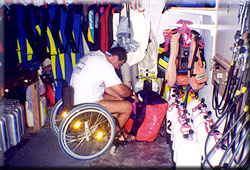 MDC s' gear is brand new Aqualung, manufactured in the year 2000. We are proud to be in the number of the Top - Selected Diving Centers all around the dial, outfitted with this gear fully developed by Jacques Yves Cousteau itself.

Also, the tanks are brand new, manufactured in Jan., 2000, with 12lt capacity, DIN or international. The brand new compressor fills pretty quickly up to 8 tanks, each with 200 or 300bars of ultra clean air.

Flashlights, cameras and whatever you lack or just forgot to bring with, are always available and at your disposal.

MDCs' speedboat is a Norwegian HAREK, supplied with a Mercury 225HP six cylinder, VHF and sonar. She is a flyer that can transfer in a twinkle up to 15 divers, each one of them equipped with two tanks and their personal staff and gear, to eleven selected dive locations. Always, one can see in our speedboat oxygen, a full First Aids Box and a tank for a three meters depth emergency use.
Please share your opinion of it with other travelers. Write a review!